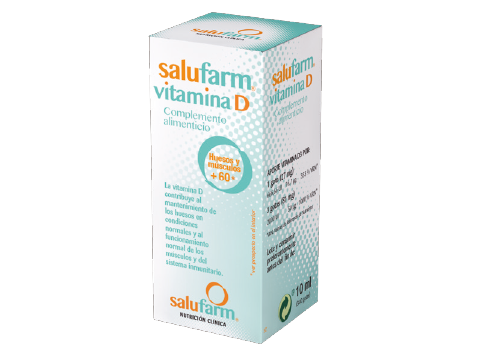 The vitamin D contributes to bone maintenance under normal conditions and to the normal functioning of the muscles and the immune system.
Extra reinforcement for bones and muscles +60*
* Vitamin D helps reduce the risk of falls related to postural instability and muscle weakness. Falls are a risk factor for bone fractures in men and women from 60 years. The beneficial effect is obtained with a
minimum daily intake of 15 µg y, considering all sources, from 20 µg (EFSA J 2011;9(9):2382).
Sunflower oil, colecalciferol (vitamina D3), medium chain triglycerides (MCT), antioxidant (D-alpha-tocopherol).
1 drop (27 mg) Vitamina D3: 667 UI / 16,7 µg / 333 %*
*VRN: Reference values of Nutrients
to normal absorption of calcium and phosphorus
to the maintenance of normal levels of calcium in the blood
to the maintenance of bones in normal conditions
normal muscle function
to the maintenance of teeth in normal conditions
to the maintenance of the immune system
to the process of cell division
10 ml (in order to 340 drops) CN 202247.8
Recommended daily intake:
In case of presence or suspicion of low levels of vitamin D in the blood (less than 30 ng/ml) 3 o 2 drops (50 µg o 33,3 µg) Y 1 gout when levels are normal.
100 envelopes (1100 g o 1140 g).
Food for special medical purposes